What Are Golf Bag Coolers? Our Guide to Buying a best travel cooler bag in 2023 will help you choose the most suitable golf bag cooler for you. Their coolers specifically designed for the golf course. The answer is travel cooler bag specifically designed for the golf course. Depending on the golf bag cooler you select, it'll either be built to fit in your bag or perfectly in your golf cart. This is the key delineation between golf bag coolers. Is it super-lightweight so you won't mind carrying it, or is it designed to keep drinks extra cold. The best soft cooler bag is as popular as the best travel back pack carry on. Fortunately, we also have menus backpack sale. We have enough mens designer backpack, especially for travel.

The good news is that most golf bag coolers are inexpensive accessories. Our list below will cost you between $12 - $19, depending on the features you need. The price is even lower than that of the lunch cooler bag. It's a small price to pay in order to enjoy a frosty drink on the course. Golf is an enjoyable sport. In warm weather, it is always more pleasant to take a golf bag cooler and drink a cold drink to play golf. Which style you choose depends on your needs. Our 2023 Buyer's Guide will help you choose the golf bag cooler that best suits you.

1,Golf Beer Sleeve 7 Can Beverage Sleeve Cooler Bag( Sale price $12.99 USD)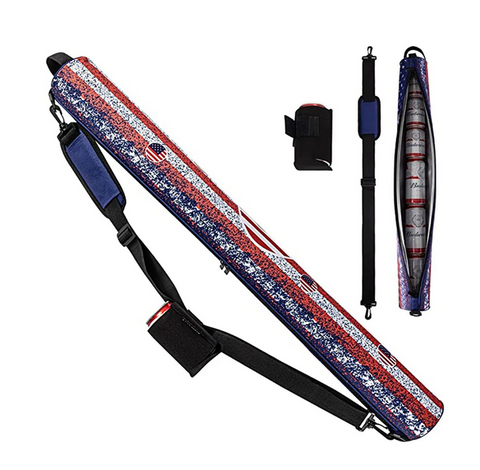 Features:Keep Beer Cold Outdoor
The PEVA insulation that wraps around the entire sleeve to keep your beverages cold for a long time anywhere!
Features:Detachable Strap Design
In order to let golf lovers better carry golf beer sleeve, we equip every best soft cooler bag with an adjustable shoulder strap and a detachable can cooler. Beer sleeve for golf bag can be folded up when not in use.
Features:Easy-to-carry Size
Full length of the beer sleeves for cans is 35.2 inches long and 4.1 inches in diameter. Simply fill the beer sling with up to 7 cans.
Features:Multi-Purpose & Occasions:
This golf bag accessories for men is suitable for sports venues, fishing, hiking, baseball, parties, picnics, lunch cooler bag etc. Sleeve to conceal your drink and keep it cold during outdoor events. Let them enjoy every cold beer with our beer can sleeve!
Features:Great Gift For Gift for Golfers
This thoughtfully designed beer bag cooler sleeve is the ultimate golfing companion. Wraps your beer nicely and stays cool for a long time, even in hot weather. Enjoy ice cold bevvy's on the golf course with your golfing buddies.Our fashion golf cooler for men printed America flag is a perfect Thanksgiving gift, Christmas gift, Birthday gift, Father's Day gift for your husband, boyfriend, or dad! In addition to the best travel cooler bag, wine bottle cooler bags on our gobanney.com are also popular.
video: Gobanney best travel cooler bag from Youtube

2, 6 Can Insulated Golf Cooler Bag( Sale price $19.95 USD)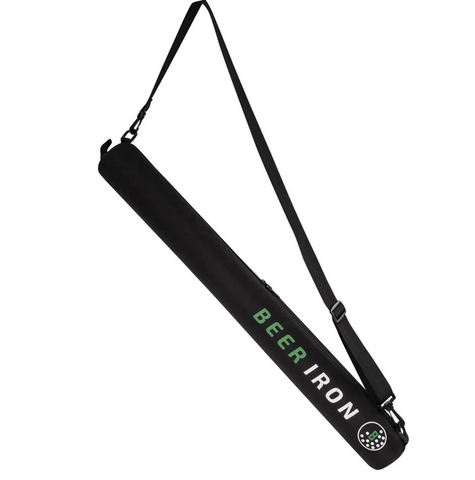 Features:Your Best Golfing Companion Having a nice, cold drink on the golf course is a necessity for every best travel cooler bag. Our cooler keeps drinks cold for hours!
Features:Easy To Carry
The Golf bag cooler sleeve has a handle on the top which can easily pull out from your golf bags. Furthermore, the bag features a removable shoulder strap that can be easily removed and reattached.
Features:Better And Leak-Proof Materials
Our best travel cooler bag are made by the toughest ballistic nylon 1680D fabric which is water resistant, making it a perfect choice for rainy days or any outdoor activities. The durable PEVA insulation that wraps around the entire sleeve to keep your beverages COLD for a long time! Heat welded liners and a upgraded waterproof zipper guarantee our cooler won't leak like other brands!

3, 7 Can Golf Beer Sleeve leak proof and thermal insulation( Sale price $12.99 USD)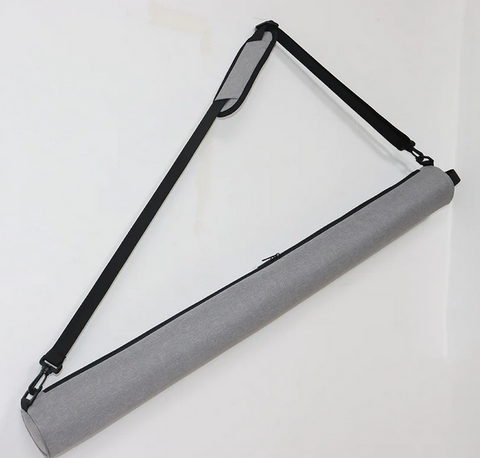 Features:Heat Insulation Cooler Sleeve
using 300D polyester gray+5mm EPE foam+gray PEVA lining material, 360 degree heat insulation can be achieved, allowing your drink to keep low temperature throughout the golf activity.
Features:carry conveniently
The golf beer sleeve has a two-way zipper for you access quickly. can carry more than one beer at a time.
Features:Fit  Most Gplf Bag
The handle of beer sleeve for golf bag is made of double-layer material, more comfortable to carry even with full cans of beverage. The best travel cooler bag is suitable for most golf bags including stand bags, cart bags, sunday bags.

If you are interested, you can easily go golf cooler bags wholesale here. We have wholesale cooler bags, cheap insulated cooler bags services. Insulated tote cooler bag may be one of our daily needs. If you have a strange idea, you may also want the best beach cooler backpack. Beach cooler bags and watercolour cooler bags have similar material requirements.

Cassiel Smith
Bag quality evaluator
Provide you with wholesale package screening solution
Shop Now